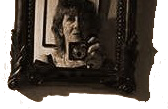 Nancy Kilpatrick is an award-winning writer and editor.
She has published 23 novels, 2 novellas, 1 non-fiction book, over 220 short stories and 6 collections of her short fiction, comic books, a graphic novel, and she has edited 15 anthologies. Her work has been translated into 8 languages.
Her writing and editing falls into these genres:
Dark Fantasy, Horror, Mystery, Erotic Horror, Sci-Fi.  She writes under her name, and the noms de plume Amarantha Knight and Desirée Knight (Amarantha's kid sister!)
Nancy has been a 4 time Bram Stoker Award finalist, a 7 time Aurora Award finalist, a 2 time Paris Book Festival winner for anthologies, the ForeWord Reviewers Award silver winner for collections, the winner of the Murder, Mayhem & the Macabre award; The Standing Stone short fiction winner award; Interzon winner; and winner of the Arthur Ellis Award for best mystery story.
She lives with her calico cat Fedex in lovely Montréal. When not writing, she travels planet Earth —the Great Curio Cabinet–in search of cemeteries, ossuaries, catacombs, mummies and Danse Macabre artwork.
Nancy's books are in print, ebook and some in audio book format, and can be found in the usual brick & mortar stores as well as from your favorite ebook vendor.
Her Thrones of Blood series has been optioned for film and tv.

Are you looking to order signed copies, want a specific cover or out-of-print title, or have a general inquiry or comment? Nancy loves hearing from you. Contact her here, or get in touch via her blog or social media pages. If you'd like to receive her short, once-a-month NEWSLETTER, sign up via the form at the top of this website!